Portugal. The Alaskans: Grammy winners with Valley roots recognized at borough assembly meeting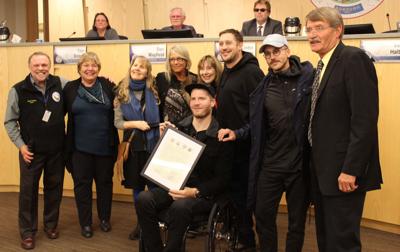 PALMER â€" Grammy Award winning band Portugal. The Man attended a Mat-Su Borough Assembly meeting to be recognized with a Mayoral Proclamation.
Former Assemblywoman Barb Doty read the proclamation. It has been well documented that Zach Carothers and John Gourley began experimenting and formed the original incarnation, Anatomy of a Ghost, at Wasilla High School in 2002. Eric Howk of Wasilla joined the band in 2015. The three came to the front of the Assembly chambers for photos with Doty, Mat-Su Borough Mayor Vern Halter and Wasilla Mayor Bert Cottle. Portugal. The Man's Grammy awarded song "Feel it, Still" played while the band took photos.
"Go ahead and turn that music up loud. Crank it up!" Halter said.
The cities of Houston, Palmer and Wasilla all co-sponsored the proclamation. As soon as the photo-ops with the politicians were over, the band invited their mothers up to the front of the chambers. After that, the band invited a boy scout troop from Sutton up to take photos. They mingled in the foyer, talking and taking pictures with fans before heading down the street to the Palmer Alehouse to celebrate. Portugal, The Man was not only awarded for their excellence in music, but their outreach in using their platform to raise mental health awareness and register concert goers to vote. Doty and Halter danced to the music while they were posing for photos.
"You make us very proud here in the Mat-Su Borough," Halter said.
Lead singer John Gourley has the word 'KNIK' tattooed behind his left ear.
Assemblywoman Barb Doty was also presented with a proclamation.
"I feel it, still," Doty said.
The following is a Q&A with guitarist Eric Howk, who played in the Frontiersman office as a child while his mother worked in the building.
TR
I've been so astounded at the way you guys are using their fame and not being all about yourselves but being about where y ou come from. The qaspek's at the concert was a really cool touch.
EH
I never knew how comfortable those things were, man. That's a 24-hour a day 365 piece of clothing.
TR
I just wanted to hear what the impact was like. After reaching such high successes and being able to come home and share that not with fans but with friends and family.
EH
You know, we've been out for 18 months. This is, welcome to the last day of tour we're all getting on airplanes and we're flying home tomorrow. It's been pretty much a consistent 18-month block of not being able to really like stop and wrap your head around this big kind of perspective and just keep things in check so we kind of have to do that in real time. We all check each other we like to talk about the importance in the meetings of some of these cool events and heavy things that we get to do. It's a constant dialogue you don't take anything for granted and this is such a weird industry and stories like us just don't happen. You don't find success usually at 37, you know. That's the first year that we got on the pop charts. All three of us were 37 years old. When you're scrapping up those charts trying to fight for position. You're dealing with these singular entities. We ended up getting a #1 from Selena Gomez the week that we got on the charts. The whole things is pretty absurd so just us as a group and really the nucleus of the group feel it's really important to maintain perspective and to check each other and to take time throughout our schedule to just be like, 'how crazy is this?'
TR
I was at the first show ever at the Alaska Airlines Center, it was the Alabama Shakes.
EH
Wild! They're so good. They're the best.
TR
Other than just coming home, the venue of that. What's the energy inside that building like?
EH
It was a surreal kind of thing because we all grew up going to shows at the Sull ivan. You know, like, going to hockey games at the Sullivan. We would see any show that came through town. We saw Pantera, we saw Megadeth, we saw Primus. I saw Neil Diamond there. Alaska goes hard. I think there's a real gratitude from the audience because it's understood we're a special place and we're not the easiest place to get to. So to bring full production of the show, we didn't cut any corners we brought all the lasers we brought all of our loud machines and we really went for it. You get that real time gratitude from the audience. The audience was going crazy, like they're going nuts. Alaska's a rare and unique state that there's only one other state that even comes close to this but it's sort of, patriotism isn't even the right word but just pride. Alaska pride is so. It's a really unique thing and Texas is the only other place that comes close. We're more than twice that, so get out of here Texas. That's hometown energy. The green room, like our backroom was stuffed to the gills. Friends I hadn't seen since high school chatting up my 85-year-old grandmother, like so many people brought us fish, like specific Alaskan very cool things. It was a three way family reunion for us three and the rest of the guys that aren't from Alaska were just kind of looking around the room like, 'how the hell? Who are all these people?' But, the best energy. The greatest.
TR
The acoustic show, transitioning from the big arena show to breaking it down and really getting into the music and the reason that you guys are doing what you're doing. Donating that to charity, what went into planning that?
EH
A lot of that is we've become friends with a few folks from Shishmaref. Some of our buddies our there, they're just fans of the band and we're just kind of interested in their sort of situation that is dire and decisions that are pending and need to be made with their coastal erosion and their changing landsca pe. It's just born out of asking questions and like getting their perspective and having conversations. They're like 'what's life like on the road? We're like, it's absolutely f-----g crazy. We're like 'What's life like in the village?' They're like it's absolutely f-----g crazy. It was organized kind of in part by Don Reardon who's a great Alaskan Bethel based writer and man of big thought and our buddy Dennis Davis out in Shishmaref, and his buddy Bob. It seemed like it just came together really naturally. It's such a good cause and we had friends, one of my closest high school friends and neighbor committed suicide when we were way too young. And you see it all the time and you hear it all the time and it's just such a problem unique to Alaska. It seems like things that are unique to Alaska really resound specifically with us even when we're far away from the state. Still, those issues hit harder in our hearts. So it was natural it was a no brainer . It made sense, and it was such a cool night. It was wild! we just autographed a standard kind of fender guitar, just threw our names on there, put a doodle on it, auctioned for $9,500 bucks. And then BP doubled that and then we doubled that so it was a wild night.
TR
What are you doing at an assembly meeting? Of all the weird things that you guys might do on tour, coming home and then showing up to watch the government…?
EH
You know we were talking about this, my sister and I on the ride over here. We went to a rave in this building like a teen dance in like 1994 they were doing a series of them. I think they got shut down pretty quick, but that was the last thing I did in this building so the situation isn't lost on me. That's wild. It's a perfect kind of end cap. We haven't had a chance to do a victory lap so to do it literally at the very end it's absolutely the right place and the right time for us to sort of exhale and have a laugh and ju st look at the absurdity and fill our hearts with pride.
'; } else { sHTML += '' + this.content + ''; if (bShowAd == true) { // Show advertisement sHTML += '' bShowAd = false; } else { bShowAd = true; } sHTML += ''; } } } } else { if (this.id == sOriginID) { // Origin found. Begin displaying assets bFoundOrigin = true; } else { // Origin found is false. Skip asset // Fail-safe in case origin is not present in set. This can be removed when origin is fixed. if (bFirstRun == true) { // Stored first id sFirstID = this.id; bFirstRun = false; } else if (this.id == sFirstID) { // We've started again. Force origin sOriginID = sFirstID; bFoundOrigin = true; } // end Fail-safe } } // Append infinity set to container $("#infinite-container").append(sHTML); }); // Include block_id on newly added list items $('#in finite-container .infinite-item.original').each(function() { var sHref = scrubURL($(this).find(".card-headline a").attr("href")); // Add to image and headlines links $(this).removeClass('original') .find(".card-headline a, .image a") .attr("href", sHref + "#tncms-source=infinity-scroll-summary-sticky-siderail-latest"); }); // Check next URL if (sNextUrl) { // if origin hasn't been found yet and we hit next_url. Trigger the set to pull in again. if (bFoundOrigin == false) { // No origin yet. Call the populate function populateInfinitySet(sNextUrl); } else { // Append sNextUrl to infinity set $("#infinite-container").append(''); } } // Refresh waypoints Waypoint.refreshAll(); if (sInfinityType == 'summary_sticky_siderail') { __tnt.regions.stickySide.determineStick($('#sticky-right-rail'), $('#sticky-right-rail-spacer'), 'siderail'); } } else { // Empty asset set returned. Go back in for a real set populateInfinitySet(sNextUrl); } }); } // Infinite waypoint var waypoint = new Waypoint({ element: document.getElementById('infinite-container'), handler: function(direction) { if (direction == 'down') { if (bInfiniStop == true) { // FINISHED. Kill the waypoint this.destroy(); } else { // Log waypoint hit event __tnt.trackEvent({'category':'infinity-scroll','action':'request', 'label':'assets requested', 'value': true}); var nextURL = $('#infinite-more').data('next-url'); populateInfinitySet($('#infinite-more').data('next-url')); } } }, offset: 'bottom-in-view' }); // Rewrite URL to for preview function scrubURL(sURL) { if (typeof sURL != 'undefined'){ return sURL; } }Source:
Google News Portugal
|
Netizen 24 Portugal