'Defiant' Hurricane Leslie to make landfall in Portugal

News Editor's Choice HURRICANE MICHAEL: Everything you need to know HURRICANE SEASON | Atlantic 'Defiant' Hurricane Leslie to make landfall in Portugal

Find Your Forecast Digital writers
theweathernetwork.com
Saturday, October 13, 2018, 11:17 AM - As clean up efforts continue in Florida after Hurricane Michael's historic landfall, in Europe Hurricane Leslie is defying historical trends as it eyes Portugal and Spain. Not only is this a rare trajectory, if Leslie makes landfall in Portugal, it would be the first tropical system on record ever to do so, and only the second on record for the Iberian Peninsula. We take a look at this unusual system, and its projected impacts, below.
LESLIE HIGHLIGHTS:
The low that became Leslie formed over the Atlantic in mid-September
May become the first-on-record tropical storm to make landfall in Portugal
Leslie expected to be near southwestern portion of Iberian Peninsula Saturday afternoon, and move inland over Portugal and Spain Saturday night
Expected to lash Portugal, Spain with hurricane-force winds, heavy rain
(Related: Shocking scenes from the aftermath of Hurricane Michael)
WATCH BELOW: LESLIE'S RAMBLING ROUTE
WHY THE WANDERING?
Leslie first became a named storm near the central Atlantic; not unheard of, but not exactly the prime breeding ground for tropical systems, which tend to spawn in the Atlantic from lows further south and closer to Africa. In its early stages, the upper level currents in the air that 'steer' tropical systems were fairly weak, and the storm ambled around aimlessly to start, narrowly missing being absorbed by upper level troughs of low pressure crossing the ocean to its north, and being rebuffed from moving west by high pressure centered near Bermuda.
Looking back over the advisories issued by the U.S. National Hurricane Center (NHC), many of them mention the expectation that Leslie would be 'picked up' by one of these troughs and pulled eastward, as this happens to many storms that form so far north in the Atlantic. However, Leslie repeatedly defied the odds, lingering in its region of weak steering flow, and gradually wandering in and out of regions of warmer sea surface temperature; essentially keeping itself alive, but not strengthening much, or moving with much purpose.
This behaviour defied model guidance (thanks in part to the very few data collection points available mid-ocean) and forecaster wisdom alike; as recently as Wednesday, forecasters at the NHC were frustrated by Leslie's eventual fate.



ONE FOR THE HISTORY BOOKS?
Now caught up in the bro ad upper-level flow of the jet stream, Leslie remains on course for Europe -- although if ever there was a storm you'd expect to throw another curve ball, this might be the one. That path puts this storm in rare company; only one other tropical system on record, Hurricane Vince in 2005, has made landfall on the Iberian Peninsula, when it sailed into extreme southwestern Spain as a tropical depression. Although it was a close call, Vince didn't track over Portugal, however, and that means Leslie stands to be the first tropical system on record to make landfall in Portugal.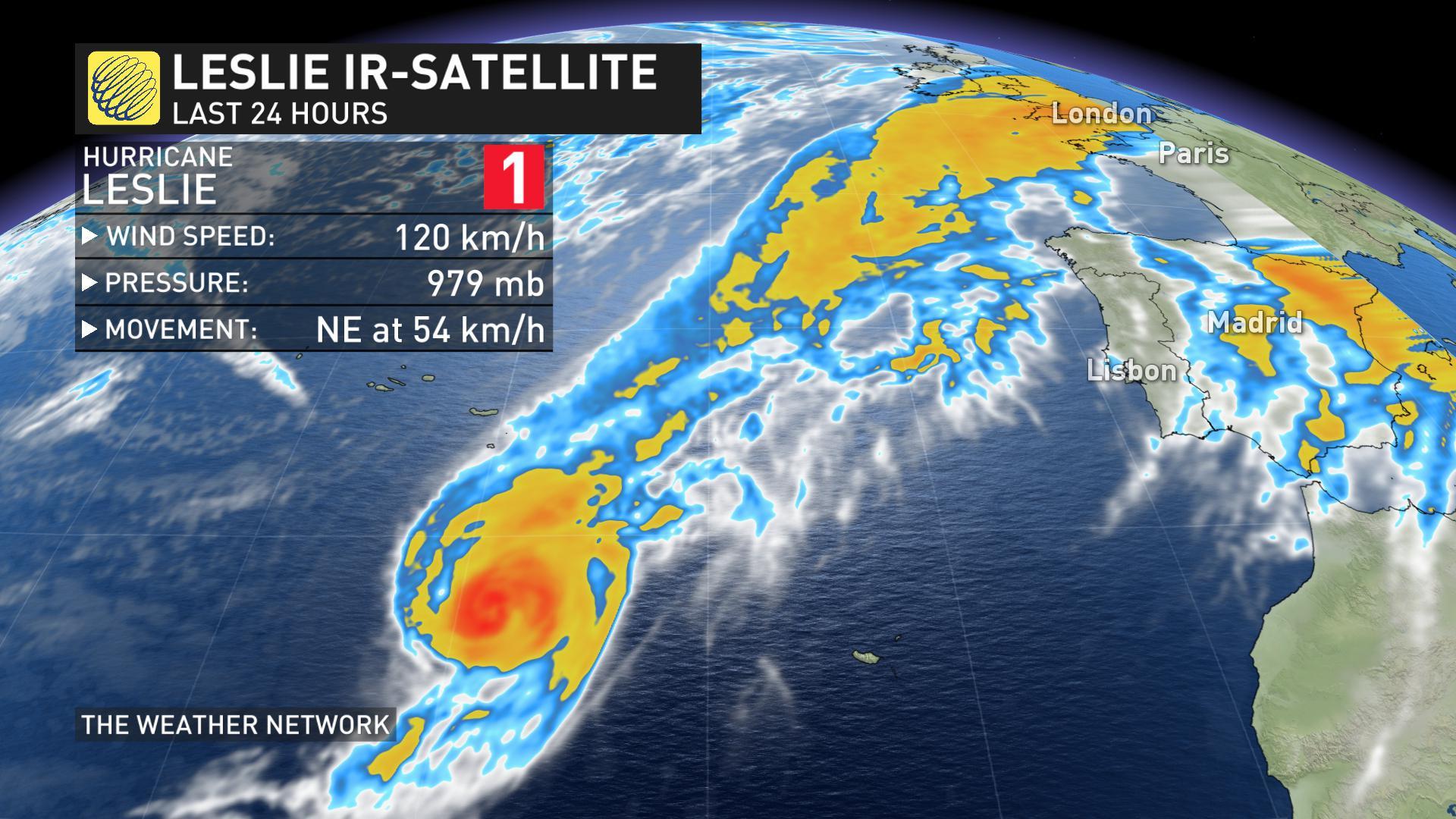 That's not to say the remnants of tropical systems haven't hit the peninsula before. Although these are not particularly common either, as remnant systems that are swept up by the jet stream tend to take a path further north into the United Kingdom, there are are a handful of extratropical storms in the history books tha t have brought rain and wind to Portugal and Spain in the past, including 2015's Joaquin, and 1991's Bob.
LANDFALL IN PORTUGAL: HURRICANE FORCE WINDS, HEAVY RAIN
Residents of Portugal are likely to see one of the stronger storms in recent memory crash into the coast on Saturday (early Sunday local time). Life-threatening rough surf, hurricane-force winds, and up to 125 mm of rain are expected for parts of Portugal and Spain. Flash flooding is another one of the concerns highlighted by the Portuguese and Spanish weather agencies.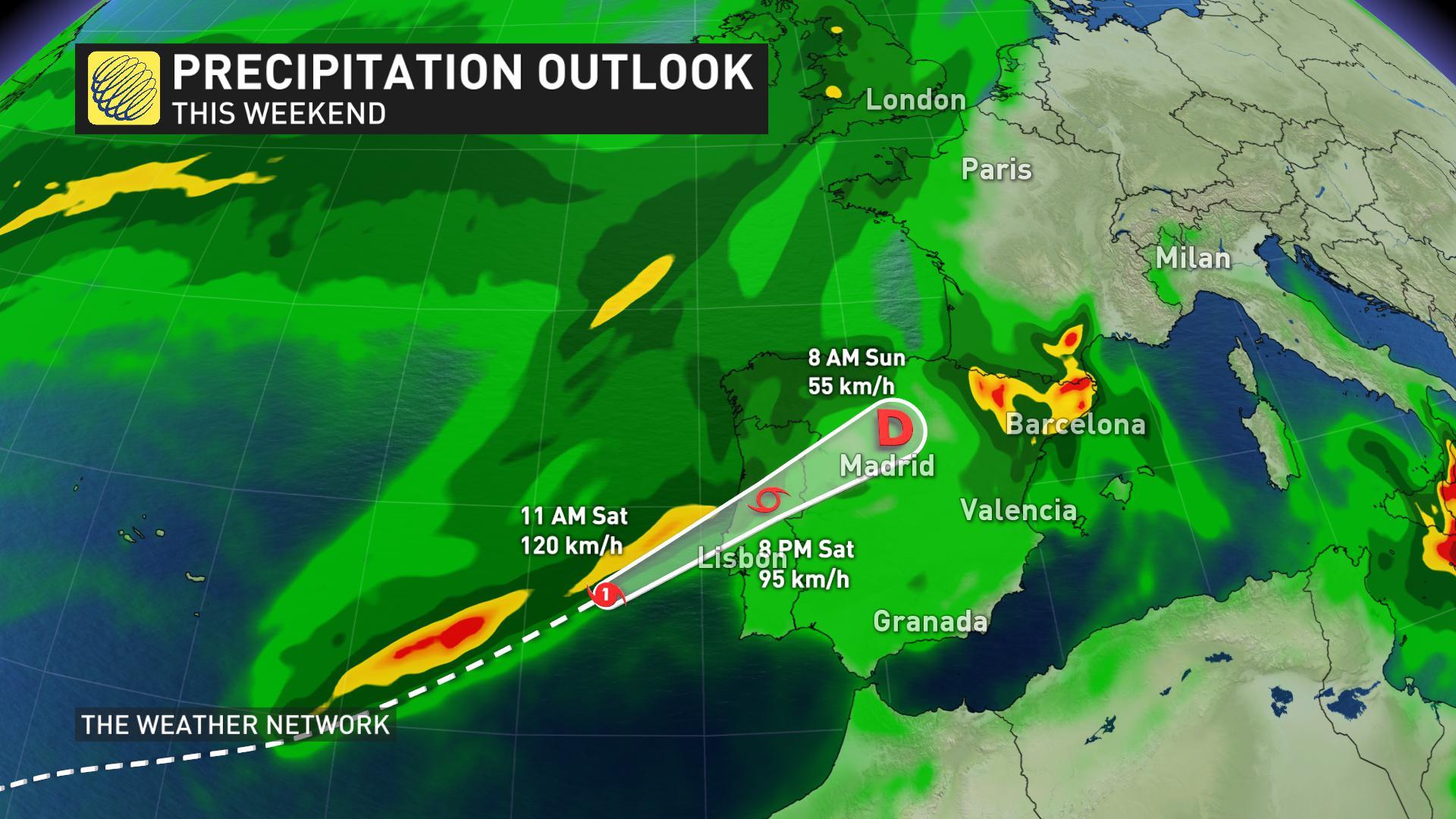 On the forecast track, "the center of Leslie will be near the southwestern portion of the Iberian Peninsula later today, and move inland over portions of Portugal and Spain tonight and Sunday," the National Hurricane Center stated in their 11 a.m. AST update Saturday.
The storm is forecast to weaken quickly after making landfall, becoming p ost-tropical after it begins to move inland.
WATCH BELOW: HOW CANADA'S WEATHER PLAYS A ROLE IN THE REST OF THE HURRICANE SEASON
'Mexico Beach is gone': Photos from post-Michael Florida
Why we need to start moving people away from the coasts
Do hurricanes feel the effects of climate change?
After a devastating hurricane, here's what to be ready forSource:
Google News Portugal
|
Netizen 24 Portugal