Campaigners want to free Portugal's tethered dogs


Campaigners want to free Portugal's tethered dogs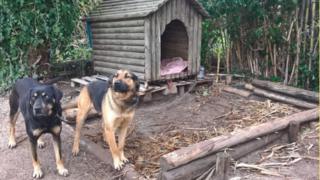 A new campaign is taking off in Portugal to free the thousands of dogs that spend their lives chained up in back yards.
Quebr'a Corrente (Break the Chain) aims to work with owners to make their outside spaces secure, so that animals can have the freedom to roam without the risk of running wild, the Jornal Postal do Algarve ne ws site reports.
Tania Mesquita says she was inspired to start the movement - the first of its kind in the country - late last year, after seeing several unhappy dogs in her own part of central Portugal straining at chains that were never removed. "I just couldn't see them imprisoned," she told Publico newspaper.
Portuguese law bans keeping dogs permanently chained up, but Quebr'a Corrente says "it is still often the case in our country".
A major reason is money. Ms Mesquita says poor families keep their animals in these conditions because they can't afford to care for them. "This doesn't mean the owners don't love their animals, so a philosophy of understanding without judging underpins all our actions," she adds.
You may also be interested in:
Swiss police say dogs should wear shoes in heatwave
South Korea to reward 'dogparazzi' informers
Vultures avoid Portugal because of carrion ban
Quebr'a Corrente now operates nationwide and runs a series of local crowd funding sites to provide secure fencing so the dogs can be freed from their restraints.
Its 60 volunteers have so far put up secure fencing for 26 dogs, and rescued six that need medical care.
Animal welfare has been making the headlines in Portugal since the government banned local councils from killing stray dogs last month. They must now keep them in kennels, which has in turn raised concerns that cash-strapped dog owners may feel more inclined to abandon their pets.
Reporting by Martin Morgan
Next story: Thieves steal entire German vineyard
Use #NewsfromElsewhere to stay up-to-date with our reports via Twitter.
Latest Posts
'Stolen' Turkish bridge was washed away
A bridge in Turkey reported stolen was washed away in summer floods.
9 October 2018
Campaigners want to free Portugal's tethered dogs
9 October 2018
Thieves steal entire German vineyard
2 October 2018
Mistaken identity as Pakistan embarrassed by wallet theft
1 October 2018
More from BBC Monitoring
About BBC Monitoring
Reports and analysis from TV, radio, web and print media around the world
Country Profiles
An instant guide to the history, politics and economics of countries and territories
More from the Magazine
Answering life's questions through daily features, quizzes and opinions.
BBC News Services
On your mobile
On your connected tv
Get news alerts
Contact BBC News
Source:
Google News Portugal
|
Netizen 24 Portugal