Bernardo Silva: from Benfica reject to Portugal's heir to Ronaldo

World Cup 2018 World Cup 2018: Guardian Experts' Network Bernardo Silva: from Benfica reject to Portugal's heir to Ronaldo
Winger was overlooked by his childhood club because of his size but has blossomed into a Premier League champion pivotal to Portugal's hopes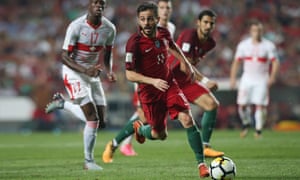 This article is part of the Guardian's 2018 World Cup Experts' Network, a cooperation between some of the best media organisations from the 32 countries who have qualified for Russia. theguardian.com is running previews from two countries each day in the run-up to the tournament kicking off on 14 June.

Portugal World Cup 2018 team guide: tactics, key players and expert predictions Read more
It is a career path that is simultaneously disheartening and encouraging. Bernardo Silva grew up a Benfica fan, joined the club as a seven-year-old but was frequently told he was too small to make it and was allowed to leave at the age of 19, after only 31 minutes of first-team football. That is the slightly demoralising part of the story â€" the fact that size is such a big factor in youth football and that some players are left behind too early despite being good enough.
Thankfully for Silva, the story's uplifting part far outweighs its negative as the player, who had been used as a left-back at the Portuguese club, left for Monaco and has since deve loped into one of Europe's most promising players, having just won the Premier League and is generally seen as the heir to David Silva at Manchester City.
"He is one of the most talented players ever developed at Benfica," Nuno Gomes told Sky Sports last September, a few days before leaving his post as Benfica's academy director. "But during his career in the youth teams he at times struggled to play in the first XI because of his size. We could see he had a great talent, but he was not as strong as the other boys."
By the age of 18, however, he had started to catch up and in the 2013-14 season he was a revelation for Benfica's B side in the Portuguese second division. Fans were calling for the player to be called up to the first team and in October 2013, aged 19 years and two months, he made his debut for them. It was not, however, as many had expected, the start of a beautiful relationship with Benfica.
Silva, whose nickname is bubblegum becaus e of the way the ball sticks to his feet, played in only two more games for Jorge Jesus that season and left the following summer. "I was training as a left-back and I realised that I had no future in the team. When Monaco came with an offer, I didn't think twice," he told L'Equipe. The Portuguese coach Leonardo Jardim had taken over at the Ligue 1 club and was trying to sign young players he knew with tremendous talent.

Silva joined first on loan, in the summer of 2014, and then permanently the following January for a fee of €15.75m. Many Benfica supporters still think that this was a terrible mistake by their club. "Of course it is a pity," Silva told Record. "My dream was always to become a Benfica player. Things didn't work out as I expected, however, so I had to take a different route."
He says he cannot promise to return to the club one day but he has at least ruled out ever playing for Sporting or Porto. Once, he even joked that he would only play in a green kit (Sporting's colours) if it was for Rio Ave or Moreirense. Rio Ave reacted by quickly producing a mock-up of Silva in their kit â€" and the player responded positively on social media.
Silva is like that â€" an extremely talented player who is also well liked for his easy disposition and warmth. Last summer he joined Manchester City for £43.6m but despite being in and out of the first team du ring his first season at the club Pep Guardiola is in no doubt of his importance in their record-breaking campaign.
"When he played he's been great," Guardiola said in February. "He's a young guy and someone we are so happy to have in the changing room. He'll stay a long time, while I'm here he will not leave, he will stay with me. I haven't seen him sad, even for one day â€" always in a good mood, even when he wasn't playing"
He is very well respected by his team-mates but also seems to have been the target of quite a few pranks. At the end of the season Bernardo even released a funny video, in which he says: "As you may know, I get pranked quite a lot. My shoes have been stolen so many times and I get 'egged' even though it's not my birthday. It's all fun, I love my team-mates, but now I'm a Premier League champion, and champions don't have their shoes stolen. All of you guys: you've had your fun, but I'm not that guy anymore. I t's time to stand up, it's time to get #JusticeForBernardo."
The Premier League title, for Silva at least, was clinched in unusual fashion as West Bromwich recorded a surprise win at Old Trafford. "I was watching the Manchester United game at home, with my girlfriend. I was on the sofa and in my pyjamas. We weren't expecting to become champions that day," he said, failing to elaborate what he was doing in his PJs at 5.50pm on a Sunday.
Having missed out on Portugal's Euro 2016 triumph because of injury he is now ready to show the world why many see him as Ronaldo's heir with a few elements of Messi thrown in.

Nuno Travassos writes for Maisfutebol.
Follow him on Twitter here.
Click here for our Portugal team guide.
Topics
World Cup 2018
World Cup 2018: Guardian Experts' Network
Portugal
World Cup
features
Share on Facebook
Share on Twitter
Share via Email
Share on LinkedIn
Share on Pinterest
Share on Google+
Share on WhatsApp
Share on Messenger
Source:
Google News Portugal
|
Netizen 24 Portugal