Barcelona poruszona zamachem. Wzruszające sceny na Placu Katalońskim

hiszpania+3barcelonazamach terrorystycznyla ramblaoprac. Adam Hrynkiewicz2h temuBarcelona poruszona zamachem. Wzruszające sceny na Placu KatalońskimDziesiątki, a nawet setki ludzi przychodzi na promenadę La Rambla w centrum Barcelony, by złożyć kwiaty i zapalić znicze w miejscu, w którym wczoraj po południu doszło do ataku terrorystycznego. Ludzie są poruszeni tragedią, a jednocześnie chcą pokazać swoją jedność i solidarność z rodzinami ofiar. Na ścianie budynku tuż obok płonących świec ludzie przyczepiają karteczki ze słowami wsparcia i otuchy, które płyną zarówno od mieszkańców, jak i przebywających w mieście turystów.<![CDATA[ .svg-plus { fill: #FFF; stroke-width: 0; fill-rule: evenodd; } ]]>Głosuj<![CDATA[ .svg-minus { fill: #FFF; stroke-width: 0; fill- rule: evenodd; } ]]>GłosujPodziel sięOpinie<![CDATA[ .svg-comment { stroke-width: 0; fill: #fff; fill-rule: evenodd; } ]]>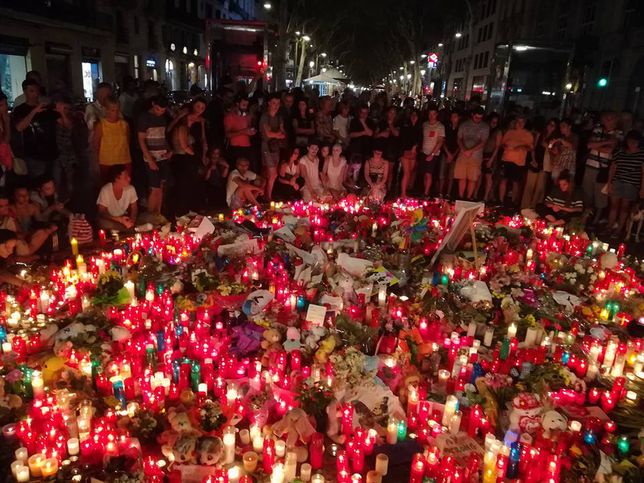 (WP, Fot: Karolina Pietrzak)
La Rambla to szczególne miejsce w centrum Barcelony, które uznawane jest za wizytówkę tego miasta. Promenada jest często odwiedzana zarówno przez turystów, jak i przez mieszkańców.
Mieszkańcy na karteczkach piszą,że nie chcą i nie boją się terrorystów oraz że są dumni z tego, że mieszkają w Katalonii. Oddają też hołd ofiarom i piszą, że nie chcą więcej zamachów ani zabijania niewinnych ludzi.
Źródło: WP
W czwartek po południu właśnie w tym miejscu kierowca furgonetki wjechał w tłum, zabijając co najmniej 13 osób i raniąc około 130 osób. Wśród zabitych i rannych w zamachach terrorystycznych w Hiszpanii są obywatele aż 24 państw. Najmłodsza z ofiar to trzyletnia dziewczynka. W związku z tymi atakami policja w piątek poszukiwała czterech osób
Kilkanaście godzin po zamachu w Barcelonie doszło do kolejnego zamachu. W Cambrils nad Morzem Śródziemnym napastnicy wjechali samochodem w grupę ludzi, raniąc siedem osób. Jedna z nich zmarła w szpitalu. Wszyscy napastnicy zostali zastrzeleni przez policję.
Dziennik "El Pe riodico" podał, że 17-letni Marokańczyk Mussa Ukabir, domniemany kierowca furgonetki z Las Ramblas, to jeden z terrorystów zastrzelonych w Cambrils. Policja na razie nie potwierdza tych doniesień.Według policji związek z atakami w Barcelonie i Cambrils ma także środowy wybuch gazu, do którego doszło w jednym z domów w nadmorskiej miejscowości Alcanar w Katalonii. W eksplozji zginęła jedna osoba, a siedem zostało rannych. - Śledczy badają obecnie, czy zabezpieczony w Alcanar materiał biologiczny pochodzi od któregoś z zabitych lub wciąż poszukiwanych terrorystów - ujawnił dziennik "El Mundo".
Na ulicach Barcelony było i jest bardzo dużo policji, ale i turystów. Byliśmy dziś na La Rambla. Zobaczcie, jak wygląda miejsce zamachu terrorystycznego dzień po tragicznych zdarze niach:
Source:
Google News